Both the Varsity and JV Boys Basketball games at USV are cancelled for tonight, due to their power outage. Both games will be rescheduled and once we have a make up date it will be announced.

Due to a power outage at USV, there will be no JV boys basketball game tonight. We are still planning to play the Varsity game if the power is restored. The power company has said that they hope to have the power back on by 6:15 or 6:30.

General Admission tickets for JV and Varsity boys basketball are on sale in the Athletic Office. Purchases are credit card only. If you have any questions please contact the Athletic Office. Go Tribe!

The girls JV game this evening against Elida will only be one half, starting at 6:00. The varsity game will start 15 minutes after the JV game, which will be around 6:45. Go Tribe!

The 9th grade boys basketball game has been cancelled for tonight. If you have already purchased tickets those will be refunded.

There is a scheduled 2-hour delay for students tomorrow, Wednesday, December 1, 2021, for teacher in-service.

There is no school Wednesday, November 24 through Friday, November 26, 2021 for Thanksgiving Recess. School will resume Monday, November 29, 2021.

Take a moment to review the wellness reminders below from our nursing staff.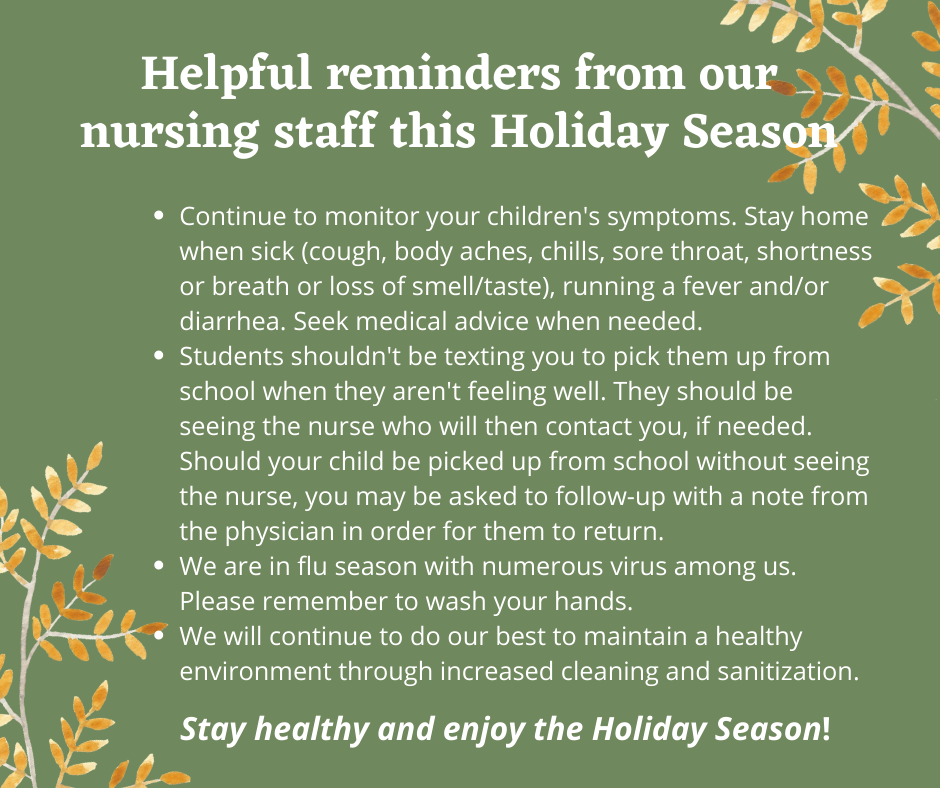 Don't miss any updates from Shawnee Local Schools! Download the Shawnee Local School District app and follow the steps below to ensure your settings are turned on and your organization is selected.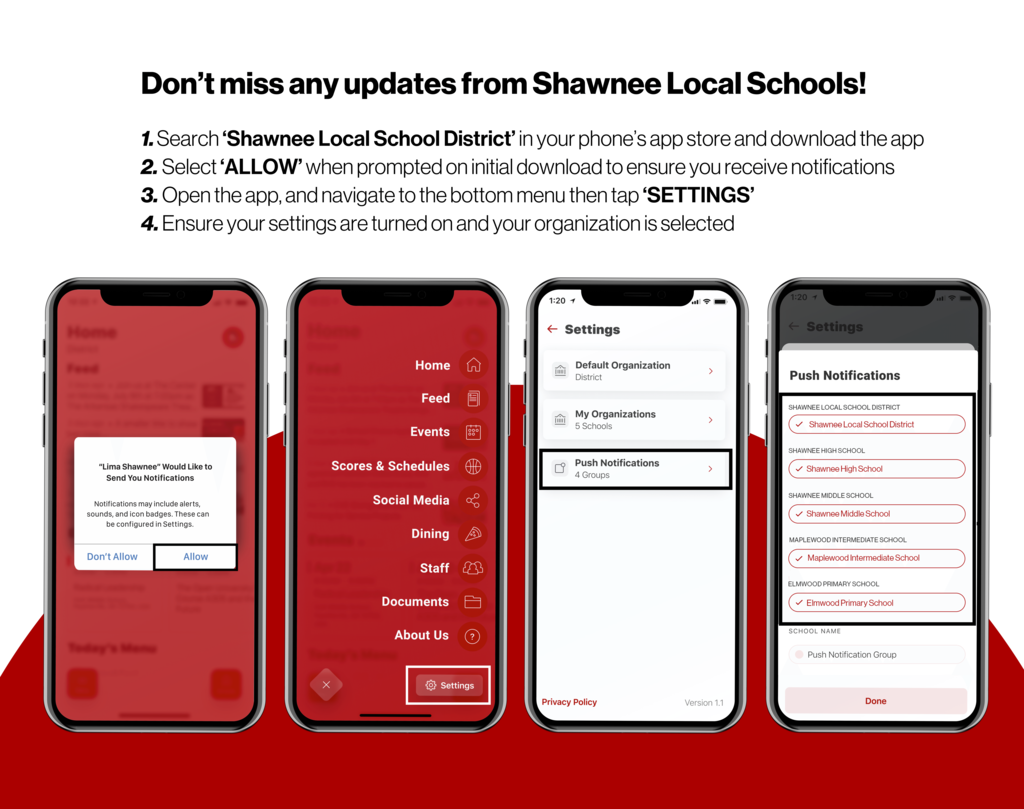 Boys Basketball Tip-Off tickets for Friday's game at Elida will go on sale Tuesday at 8:00 on the Elida Athletic Website,
https://www.home.elida.k12.oh.us/Content2/488
or on the Hometown Tickets Fan app. Shawnee Plays Bath at 6:00 on Friday. All tickets must be purchased online.

There is no school tomorrow, Friday, November 12, 2021 for students in grades K - 8 due to Parent Teacher Conferences.

Shawnee Schools are on a 2 hour delay. Wednesday, November 10, 2021.

The Girls Soccer Match tomorrow against Rocky River will be streamed on the NFHS network, which is the same streaming service that Shawnee uses. The Boys Soccer Match against Lexington will be streamed tomorrow on WMFDsports.com, under All-Schools Channel 2. Go Tribe!

Tickets for all of our tournament contests this weekend must be purchased on the OHSAA website at
www.ohsaa.org/tickets
or through the Hometown Ticket Fan app. Go Tribe!

Good luck to all of our athletes this weekend! Football tonight at Hamilton Badin, tomorrow Boys and Girls Cross Country at State in Columbus , Girls Soccer at 2:00 vs. Rocky River at Tiffin Columbian and Boys Soccer at 5:00 vs. Lexington at Marion Harding Football Stadium.

The football game against Hamilton Baden will be streamed on Chatterbox Sports at
https://chatterboxsports.com/
This is a pay per-view. WIMA will also be broadcasting the game on the radio. Go Tribe!

Congratulations to the Boys Soccer Team on their 8-0 victory in the Regional Semifinal game. Shawnee will play again on Saturday at a time, location and opponent to be announced. Go Tribe!!

Congratulations to the Girls Soccer team on their 3-0 victory in the Regional Semi-Finals!! We will play again on Saturday at a location, time, and opponent to. be determined. Go Tribe!!

The boys soccer match against Sandusky Perkins will be livestreamed on BCSN. This is a pay per view. Please follow the instructions from the attached flier to be able to view the game. WOSN will also rebroadcast the game on Thursday at 8:30.