Reminder that Maplewood fundraiser orders are due tomorrow, Tuesday, October 12th. Please be sure to send it in with your student. Thank you!

Maplewood lunch menu has been changed for Thursday and Friday of this week. The following will be the new menu: Thursday: Chicken patty sandwich, broccoli w/cheese, applesauce, brownie bar, and milk Friday: Pizza Rippers, Green beans, Mandarin oranges, and milk. Thank you!

Tomorrow starts off our homecoming spirit week at Maplewood! If your student would like to participate, we will be wearing Camo on Monday, Pajama day Tuesday, Neon color day on Wednesday, Jersey Day Thursday, and Friday is Shawnee spirit day! Go Indians!!

Maplewood is partially without power. Lunch will be served and the school day will continue as normal. Power restoration is in process. If you need immediate assistance, please call 419-998-8089 and they will reach someone at Maplewood. Thank you for your patience.

Show your Shawnee spirit and join us for the Homecoming parade!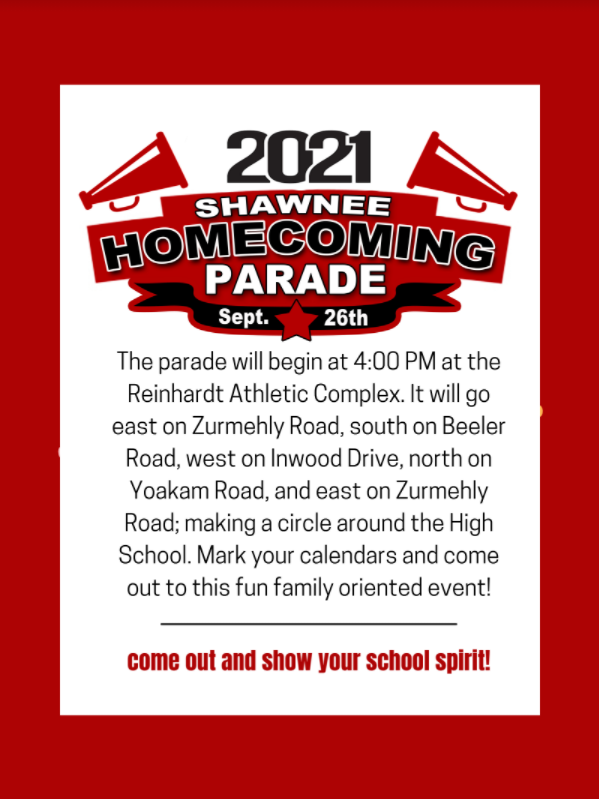 Maplewood parents, when picking up your students in the gym at the end of the day, please be sure you are stopping at the table and signing your student out everyday. Thank you!

Shawnee Maplewood's picture day has been changed to October 19th, previously was scheduled for October 20th. Please be sure to mark your calendars! Thank you!

If your child is a bus rider, please be sure to send a mask with them each day. Even if they get dropped off in the morning, they will need to keep a mask in their bookbags for after school. We have many bus riders not bringing masks and we don't always have extras to give out. Thank you!

Reminder that Shawnee Maplewood's open house is scheduled for Wednesday August 25th. 3rd grade students can come see their classrooms, meet their teachers and bring supplies from 5:30-6:30pm. 4th grade is scheduled from 7-8pm. If you have not picked up your students welcome letter or paid school fees, please be sure to stop by the office the night of Open House. Thank you!

Shawnee Maplewood will post class lists on the gym doors at 3:00pm today, Friday, August 20th. Thank you!

3rd and 4th grade families may stop into Maplewood August 16-20 from 8-11am or 1-3pm to pay any school fees, pay on your students lunch account and to pick up your students homeroom teacher letter. We are looking forward to the new school year!

Join us for Mr. & Mrs. Bob's Breakfast Benefit - Saturday, July 24 from 6:30 am - noon in the Middle School cafeteria. Mr. Bob is a custodian at Maplewood. His wife, affectionately know as Mrs. Bob, has been diagnosed with cancer. All proceeds will benefit the family.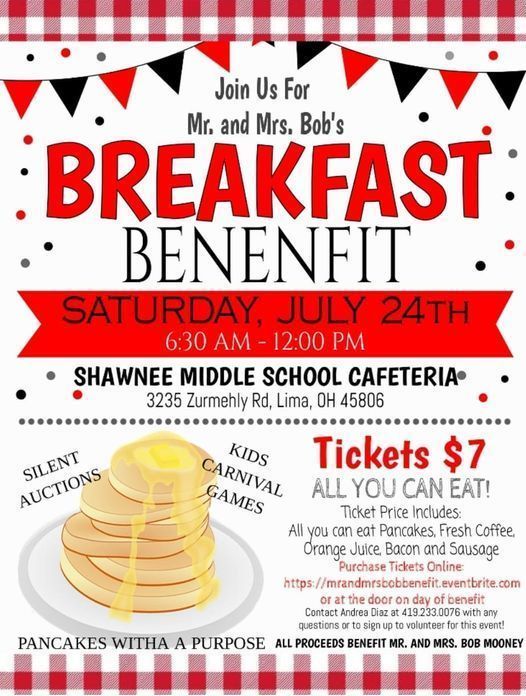 Due to the weather forecast for tomorrow, we are going to switch the 4th grade celebration from Wednesday, June 2nd to Thursday, June 3rd. We are hoping to be able to celebrate outside on Thursday from 1pm-3pm. If we are unable to be outside, we will have our celebration indoors.

If your Maplewood student purchased a Maplewood 50 year shirt, please have them wear it to school on Tuesday June 1st. If they did not, please have them wear Shawnee spirit wear for our 50 year celebration on this day. Thank you!

MAPLEWOOD ART GALLERY WALK 3rd grade Tuesday, May 25th 5-7pm 4th grade Thursday, May 27th 5-7pm *Masks and social distancing appreciated. Please email Ms. Mulder with any question at
mulderg@limashawnee.com

Friday, May 21st is Field Day at Maplewood. Please be sure your student brings a sacked lunch this day as the cafeteria will not be serving food. Also with the warm weather, please be sure to send a water bottle and sunscreen with your student. 4th grade activities are in the morning and 3rd grade will participate in the afternoon. Thank you!

Shawnee High School boys basketball team is holding a camp for any boys entering grades 3-8 from June 28th-July 1st. There are forms at the Maplewood office for any student interested in participating. Please call the office with any questions!

Our 4th grade students will be visiting the Middle School this week for a tour for next year. Wood, Rollins, Hohman, and Hutchins homerooms will be visiting Tuesday, May 18th from 9:50-11:00am. Moeller, Hulihan, Werst, and Kaskocsak will be visiting Wednesday, May 19th from 9:50-11:00am. Please call the office with any questions!

Tomorrow, Tuesday, May 11th is the last day Maplewood will be able to accept field day shirt orders to get the shirts in time for field day. Please be sure to send in any orders in with your student. Thank you!

There will not be tickets passed out for the Daddy/Daughter dance scheduled for this Saturday. They will have a list of names of families that have paid and will be able to mark your name off of that list. Thank you!